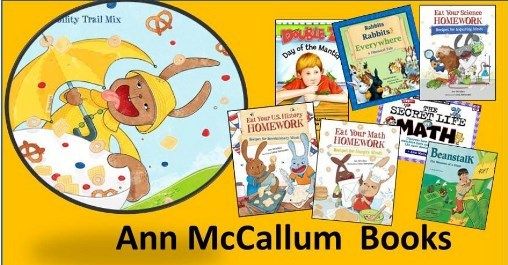 We received
Eat Your Math Homework
from
Ann McCallum Books
to review. It's a super fun book with a collection of math recipes and lots of interesting math facts. Ann McCallum also has two other homework eating books, one for science and the other for U.S. History, along with a few math themed books. We look forward to checking them out! Eat Your Math Homework is intended for children in Pre-K to 2nd grade. It covers fractions, Fibonacci, geometry, Tangrams, probability, tessellations, variability, patterns in nature, and more!
We have always enjoyed taking our math lessons to the kitchen, since cooking has so many mathematical properties. Whether you're measuring flour for cookies, cutting carrots into quarters for salad, reading a temperature, or setting a timer, you're learning math. There are numbers everywhere in the kitchen. From the time on the stove, to the temperatures on the dials and thermometers, to the measurements on the measuring spoons and cups, to the stick of butter. Numbers are everywhere.
We have a handful of recipe books for children, but they don't go into the math side of cooking. We do however have a handful of board games that feature food and math. We use those when we don't have any recipes planned, but for the most part, everyone prefers math when it involves eating their problems. My 4 and 5 year old absolutely loved reading Eat Your Math Homework. It's the first book they owned that isn't a math workbook, but is still all about math. Each section has a little math story, then it goes on into the recipe, what type of food to use, and talks about the math facts.
For the Fraction Chips, we turned to an old favorite recipe. Cinnamon Sugar on baked tortilla chips, dipped in strawberry salsa. We used the tortillas to learn about fractions, by using a pizza cutter to slice them into fractions. We started with a package of a dozen tortillas and used each one to represent a different fraction, with a few extras to munch on while they used the rest to learn math. We created all the fractions in the book, with help from flash cards that showed the number fractions and the written word for each to match them.
I actually remember a few times in school when a teacher brought in food for math lessons, to incorporate some hands on learning. Those kinds of lessons always stayed with me, and I love that my kids are learning so much in the kitchen about math, all from a handful of fairly simple recipes. The food used in Eat Your Math Homework are all types of food you would probably already have at home, so it was really easy to make most of the recipes, with the ingredients already on hand. You'll find recipes for snack sticks, pizza pi's, trail mix, and even Tangram cookies (Bean's favorite!). It's a really good mix of different types of food, so there's something to appeal to everyone. And if particular ingredients bother you, you can easily find substitutes.
Eat Your Math Homework is a great book, even if you don't actually use it for homework. It would make a great addition to any homeschool or school classroom, and would even be fun gift for children who either love math or cooking. We plan to pick up Eat Your Science Homework and Eat Your U.S. History Homework as part of Munchkin and Bean's Christmas presents. We usually do an equal mix of toys, clothes, and new learning supplies. Our advent calendar is always a collection of 24 new books, so these two will be among them.
Extra fun homework books:
Eat Your Science Homework
and
Eat Your U.S. History Homework
.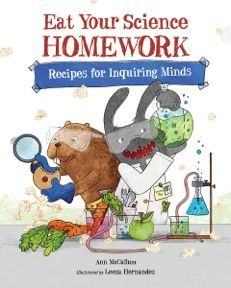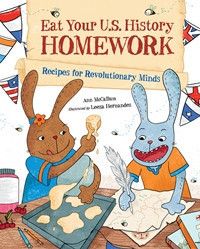 Children's math stories:
Rabbits, Rabbits Everywhere: A Fibonacci Tale
and
Beanstalk: The Measure of a Giant
.
If you would like to read more reviews from the TOS Crew, click on the banner below!