We received Elementary Spanish 1: Grades K-2
Spanish Courses
from
Middlebury Interactive Languages
to review. Middlebury Interactive Languages has four languages available: Spanish, French, Chinese and German. The courses are designed in age groups: K-2, 3-5, 6-8, 9-12 (with a secondary course in fluency). If you're unsure of what level your child would be in, they have
demos
available. The first level is available for each grade group and that should always be your starting point if you're just beginning to learn the language you choose. Just a note, the German course is the only course that doesn't offer a K-2 level.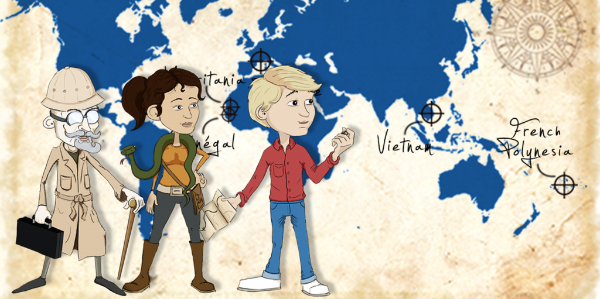 Since I have a preschooler and Kindergartner, we started with the K-2 course. We have worked through the first few lessons with great success! We focus on one lesson per week, and repeat each section daily. We also printed off homemade flash cards of each word and phrase and each lesson is on a color-coded ring. Both kids have worked on each lesson together (my preschooler is basically at a Kindergarten level in every subject) and it helps that they can work on their language studies by practicing together.
We live in an area where Spanish is commonly spoken. Actually, we more accurately live in a melting pot of cultures and languages, which is amazing. On our street alone we have over eight bi-lingual families that speak English and a native language from their home country. On the flip-side, our neighbors, my kids' best friends, have a Puerto Rican father whose mother only speaks Spanish, and his daughters do not understand her because he never taught them his native language. We suggested trying out Middlebury Interactive Languages, but in the meantime I shared our flash cards with them and printed off some worksheets and my kids and I have helped them practice. It has been wonderful working with a bigger group of kids.
Proper pronunciation is harder for Bean, who has struggled with speech in the past. We have created phonogram rocks to help with this. We use rocks instead of flash cards for things like this because Munchkin does so much better with objects. The rocks have the letters painted on and there are multiple rocks depending on the accent marks. Once a week we go through the rocks and work on each sound and pair them together to form words she recognizes. During the rest of the week, they are able to play with them however they want. Playing with the rocks is a wonderful way for them to familiarize themselves with the letters and create words to sound out, even if they aren't real words.
Spanish 1 started with the very basics of Spanish language - Hello, Goodbye, My name is... From there it branched out to incorporate several different areas. We have incorporated our Spanish studies into most of our daily lessons. For math, we use half English and half Spanish word problems (the numbers are Spanish), Bean's spelling words are written in both English and Spanish. She practices to write and read each word. We don't take tests though. We move on when she's ready for a new batch of words. We also have several English/Spanish reading books (top half of page is in English, Spanish translation is at the bottom). We also use workbooks we found at our local bookstore and worksheets we printed out from online. Those we work on together, but my kids primarily use Middlebury Interactive Languages independently on their tablets.
There are 12 units in the K-2 course. Each course has 6 lessons. Each lesson covers different areas, like an introduction to the unit, reviews, exploration, practice, speaking labs, coloring pages, warm-ups, stories, and more. The stories are spoken in Spanish and you listen along and pick up key words from the text that are found in the unit. The units are:
Unit 1: Greetings
Unit 2: Numbers
Unit 3: Family
Unit 4: Colors
Unit 5: School
Unit 6: Review
Unit 7: Body
Unit 8: Animals
Unit 9: Calendar
Unit 10: Food
Unit 11: Descriptions
Unit 12: Review
Each of Middlebury Interactive Languages courses are designed to be completed in one semester (18 weeks/90 days). The joy of online curriculum is that your child can work at their own pace, though the purchase plan limits you to one semester (6 months), with the option to buy an additional semester if needed. There are two purchase plans available, basically with or without a teacher aid. Independent Study costs $119 per semester and with a Teacher costs an additional $175 for a total of $294. If you have multiple students, the price goes up.
We are enjoying using Middlebury Interactive Languages and as far as online learning goes, the app is really great to use. The kids are able to navigate the site mostly on their own and as the teacher I'm able to keep track of their lessons and grades. The lessons progress at an easy pace for young kids to follow, and each lesson builds on the last.
Middlebury Interactive Languages is a perfect online program for homeschooling families, especially those trying to teach a foreign language for the first time. Foreign languages can be challenging to teach if you are completely unfamiliar with the language. Workbooks may not be enough to immerse yourself in the language, which is why an online or digital curriculum can compliment your language study.
To read more lessons from the TOS Crew on Middlebury Interactive Languages, click on the banner below!