First Start Reading
from
Memoria Press
is one of our favorite homeschool curriculums that we've had the pleasure of reviewing. Memoria Press provides homeschoolers with a classical Christian education. One thing I like about First Start Reading is that secular homeschoolers (like us) can use it too! This reading and writing curriculum focuses solely on phonics lessons, with built in writing, drawing and coloring activities. Teachers will put an emphasis on correct pencil grip and letter sounds during instructions.
My daughter has been doing so well with First Start Reading! She loves that she can easily access the books and use them independently, even without a teacher (me). She is still on Book A, but she's already finished several lessons from it. Each lesson is only one page in the student book, not including the coloring page that faces it. She loves that the writing lessons are paired with a coloring page. The coloring pages and drawing prompts are themed to match the letter or word for the lesson. I would suggest keeping a couple pencils and either crayons or colored pencils available to use with the student workbooks.
Typically she traces the letters, and then uses a white board to practice writing them on her own.
For this lesson, it asked to answer her name and to draw a self-portrait. I provided a mirror for her to look into while working on this page. She wrote her name on her own and proceeded to draw a jellyfish, since at the time, she had been pretending to be a jellyfish.
Here's how I taught lessons using First Start Reading: I started by reading the lesson plan in the teacher's book, then modified it to our teaching methods. I used a white board and sat next to my daughter (who used the student workbook), so she could see how I wrote letters and words (since she's a visual learner). My son sat on my other side and practiced writing letters in his salt tray (since he's a kinesthetic learner). Even though he did not follow this curriculum with us using a workbook, he still enjoyed participating in some of the lessons.
Because First Start Reading focused on phonics, the step-by-step instructions were great for teaching how to understand and recognize letter sounds. This product also blends phonics reading lessons with writing lessons, and we find that dual lessons like this work best for our family. We work on phonics by reading the letters and words out loud, sounding them out, and quizzing each other on sounds.
First Start Reading is different from other phonics curriculums because it uses the more traditional vowel-consonant approach and combines it with word families. We typically learn word families by using homemade sight word cards (which we also use for phonics). I find coloring and drawing exercises to be really relaxing when combined with worksheets, so I was happy to see some offered in these books. There are also games and activity suggestions in the teacher guide to help with lessons.
First Start Reading teaches:
- consonant, short vowels, and long vowels
- 45 common words (we created flash cards for them)
- manuscript printing
- coloring and drawing activities
If you have the complete set, your child or student will work through four student workbooks, which covers thirty-one phonetic stories. We've been reading a lot of phonics books lately, so my daughter immediately recognized what the stories were teaching her. I find that rhymes, phonetic books and word building flash cards help with our lessons. I will always suggest reading Dr. Seuss books before or after literacy lessons (or at least at some point during the day), because they are not only fun to read, but you'll learn a lot from listening to them.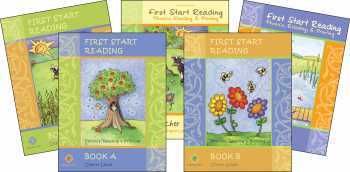 The First Start Reading set is available from Memoria Press for $42.95 or you can purchase the student set for $28.00. The student workbooks and the teacher's guide can also be purchased individually. I personally really like the whole set and would see it as a good investment.
You may be interested in these articles:
Why First Start Reading
and
What is the Classical Approach to Phonics?
by Cheryl Lowe. Both of these articles are informative and helped me to learn more about this curriculum choice!
Be Social!