We received
The Ultimate Homeschool Planner - Blue Cover
from
Apologia Educational Ministries
to review. It covers 52 weeks of your homeschool year. It also features Biblical scriptures and inspiring quotes. It comes in blue, yellow, and orange. I liked the blue cover because the colors were vibrant and really popped.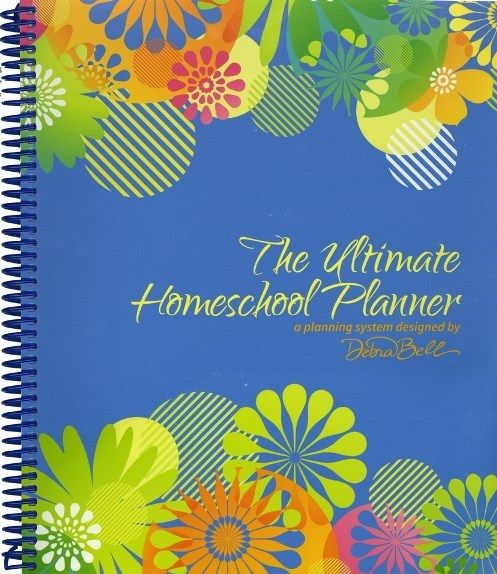 $29.00
Both covers feature an inside pocket for notes, papers, and whatever you may need to store away in your planner. Following that is a calendar of the 2015-2023 years. I used a highlighter to dot the days that were especially important, like holidays, vacations, field trip days, and planned outings. I've only gone as far as 2017, but it's nice to have those calendars ahead of schedule. After that is basically the starting page, where you can list your homeschool, students, and their grades. The user's guide was really helpful to fully utilize the homeschool planner.
We used the one year planning grid to plan out our weekly, bi-weekly, and monthly unit studies. Generally we planned month-long units with each week being directed to a specific study within the theme. Like for instance, anatomy is coming up and we plan to focus one week on the outside body, one on bones, one on muscles, and one on organs. For life cycles, we choose a mammal, bird, insect, and plant and spent one week on each of them.
In the goal section we didn't focus as much on character development, so much as what the kids wanted to focus on and learn by the end of the year. They each made their own list and I plan to do my best to make sure we can check off each one during the year. I also wrote down a few of my own goals, as a teacher and as a mother. I hope to improve on certain traits. Organization is one of them, so I hope the planner helps with that!
The resource list was super helpful in keeping track of each child's curriculum and student materials. I was able to list the curriculum on one side and use the other side to list which materials were to be used with that curriculum. Like for math, I listed counters, rulers, coins, pattern blocks, etc. Then I set up a shelf for each subject and put these materials with them so they are always easy to locate.
After that is the monthly planner. You'll have to add in your own month, year, and days. That means you can start whenever you want and you're not limited to a 2015-2016 year planner. At the bottom of each of these pages is a Biblical quote and a notes section.
And from there is the weekly planner, which also has a space for notes, supplies and appointments. Small post it notes also fit in these spaces, which I usually carry around with me, and I can easily add them to the planner when I get home. The weekly planner also has a prayer section, Bible plan, battle plan, hospitality/outreach (which can also be used for Church plans or volunteer work), memorable moments, achievements, and evidences of grace.
Near the back of the planner you'll find a section for records and grades for each student. You can mark subjects, grades throughout two semesters, and the end of year final grade. I am particularly fond of the reading lists as well. However, due to the fact that we read several books per day, we decided to limit the planner's reading list to the books that are used for their unit studies. Personal reading is usually done from our home library, and we save library lists (in the back pocket of the planner) in case we ever want to revisit a favorite book. There are also field trip and outside activities lists. We used these to note the name of the field trip, the address and phone number, tickets/pass (stored in the front pocket), and who we plan to go with.
There are also teaching tips, which offer encouragement and go over learning styles and thinking skills, to better understand our children. I really liked the Twenty Power Tools Student Toolkit list, which we liked so much, that we made a copy of it and put it up on the wall in our homeschool corner. It lists examples like "analyze it! connect it! investigate it! transform it!" Finally, the end of the planner features a year-end review section for notes, which we haven't gotten to yet.
I really liked The Ultimate Homeschool Planner. It had everything I was looking for in a planner, and a lot more that I didn't realize I needed, the the resource lists and monthly planner list. It made it so much easier to plan unit studies and keep track of all the books and materials we would need. And unlike some planners which only list Monday through Friday, this planner added in Saturday and Sunday on the monthly schedule, and adds in a sixth day on the weekly schedule, so you can use it for Saturday or Sunday, or both. I wish the whole week was available, but then there would be less space for the rest of the days. We have made due with combining the weekend days into one slot.
I would highly recommend The Ultimate Homeschool Planner for Christian homeschooling families. It was a wonderful way to keep track of our lesson plans for the year and it had a lot of extra features that some planners don't have. I also liked the size of the planner. It wasn't too small and had lots of space for notes. It is roughly the size of a regular textbook or curriculum book, so it fit nicely on our homeschool shelf.
Social Media
If you would like to read more reviews from the TOS Crew, click on the banner below!