We received the
MyFreezEasy.com Freezer Meal Plan Membership
from
MyFreezEasy
to review. Specifically the Premium Annual Membership, which allows you to customize your own plan or create your own. The Premium Annual Membership also gives you access to all eight meal plans each month.
MyFreezEasy offers you an easier way to freeze meals in advance by providing you with meal plans, recipes, and shopping lists. We used our laptop and tablet to view the recipe plans, but you can also download and print them. Another nice option is that MyFreezEasy offers labels which have the name of the recipe, cooking instructions, and a space to write in the date.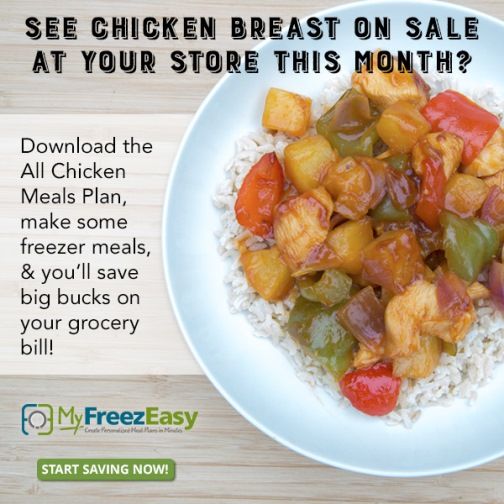 There are eight meal plans available: Traditional Meal Plan, The 20 Meals Plan, Gluten Free Meal Plan, All Pork Chops Meal Plan, All Ground Beef Meals Plan, All Chicken Meal Plan, Slow Cooker Meal Plan, and Clean Eats Meal Plan. The Clean Eats Meal Plan contains some Paleo recipes. The printable meal plans are very organized and lists the ingredients, prep time and instructions, and how long you can store your meals in the freezer. The main feature I love is that you make two meals at once, one for now and the second for a later date. It really does save time and makes it so much easier. In the future we will try to prep multiple recipes at once.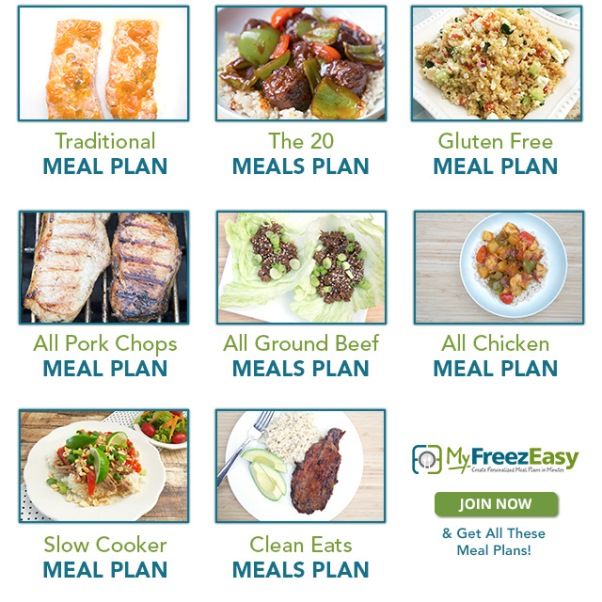 The meal plans we used the most were the Traditional, 20 Meals, and All Chicken. Now that it's October and the temperature is starting to drop, we are getting into slow cooker season and will be using those recipes too. The 20 Meals plan has 10 recipes and plans to make one now and freeze the second batch. The other recipe plans typically had 5 recipes. I loved that the recipe plans came with a shopping list, separated by recipe, and there is also a second shopping list so you can shop by store section.
For the most part, we created the recipes as directed. I did substitute some ingredients though. For example, I don't like chicken thighs, so we used chicken breast instead. And if a recipe called for onions, I just omitted them, since I'm allergic to them. One thing I loved is that some of the recipes use ingredients I would not usually consider using, like lime juice in the Paleo Chicken Taco Salad. I also liked that many of these recipes are new to us. I tend to stick to my go-to favorite recipes, but my children love trying new recipes.
My daughter loves cooking and enjoyed prepping with me for our freezer meals. We were also able to use the meal plans to work on reading and math (cooking is our favorite math lesson). She was able to read the ingredient list (with help) and measure out the ingredients (the math part).
There were only two things I did not like about MyFreezEasy. The first is that they don't provide nutritional information, since some people might be on strict diets or count calories. This doesn't apply to us, but it's something to consider. The other is that I feel you should have access to the meal plans for past months in your subscription, not just the current month. This is mainly because I only had a chance to make a handful of the recipes from September and was using my laptop to read the recipes, but I did not download and save the recipes. So when I went back at the start of October, the old recipes were gone and only October's recipes were available.
Overall, I liked MyFreezEasy because it allowed me to prepare full meals in advance. Now on busy days I can just pull out a meal from the freezer and cook it, without having to spend time preparing the meal.
Be Social!