We received
Friends & Sharing
,
Happiness & Attitude
and
Manners & Character
, along with the
Happy Kids Songs Workbook: Hands-on Activities to Build Character, Social and Emotional Skills
, to review from
Happy Kids Songs
. The music was downloaded with the option of burning them on CD's, which we have not done, and the workbook was a physical copy. This product is intended for children ages 3-8, but younger and slightly older children will likely enjoy this product too. We were able to incorporate this product into our music lessons and now we start out each lesson by reading along with one of the songs while it plays. My children enjoyed the Friends and Sharing songs most.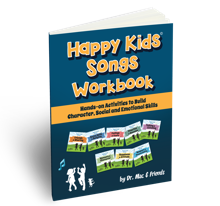 Cost: $13.95
The workbook covers all of the Happy Kids Songs, including all of the lyrics. The book features a different activity for each song. A handful of the activities were unable to be completed by my children, but those were mainly crossword puzzles and questions to write your answers in. Many were coloring pages, while others were mazes, dot-to-dots, draw your own picture or finish one, or color by number. Each was unique and paired nicely with the song they went with. The copyright also allows you to make multiple copies if you have more than one child and you can make copies for classrooms and co-ops as well. We have yet to use this option, as we have simply kept everything in the book and let the kids take turns using it.
We listened to the songs during our music lessons, which usually consist of watching online piano videos and practicing. We added this product to our lesson by listening to the music from the songs we received and working on the activities in the workbook. They typically took turns sharing the workbook or if it was a coloring page, worked on it together. We usually just dance to music, but this was the first product we have used to sing music. We used the lyrics in the workbook to sing along with the songs. My kids now listen more closely to lyrics and are able to sing along to other songs they love listening to. Each of the songs are unique and fun to listen to.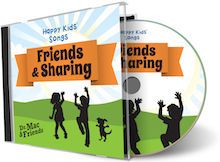 Cost: $4.95
Friends and Sharing features five songs about friendship, how to speak to others, sharing with others, how to say goodbye and how to be happy while including others in playtime.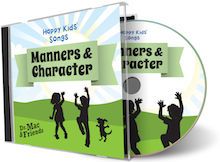 Cost: $4.95
Manners and Character features five songs about honesty, learning manners, being appreciative of others differences, being considerate of others feelings and their perspectives.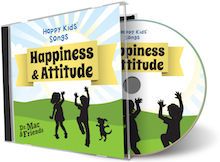 Cost: $4.95
Happiness and Attitude features five songs that focus on positive attitudes and thinking, giving compliments, and can be especially helpful for children who struggle with understanding limitations and separation anxiety.
Things I loved about Happy Kids Songs:
- I love that the workbook is compact and covers all of the songs. That is helpful if we decide to purchase more of the CD's, because we will already have the workbook on hand.
- The workbook is full of activities! One for each of the 40 songs.
- The songs are great for music lessons, especially because the workbook provides the lyrics for singing along.
- The songs are cheerful and easy to follow along with. The topics are educational, even if the children don't realize it.
- You can copy pages from the workbook to use with more than one child, including for classrooms and co-ops, making it very affordable.
- The CD's are affordable, only $4.95 each! And the workbook is only $13.95 and covers all of the CD's!
- Bonus activity pages are available when you sign up for the mailing list (they have one for teachers and one for parents).
There wasn't anything that we could find disagreeable with this product. The songs are appropriate for children and the concepts are ones that they can easily understand. There are five other CD's that we have not listened to completely, but we did listen to some of the samples on the website and liked the sound of them as well. We do not feel like these were essential to our homeschool, but they were certainly a nice addition!
Happy Kids Songs
If you would like to read other reviews on Happy Kids Songs, click on the banner below.


If you enjoyed this post, please consider following us on
Facebook
and
Pinterest
. Thank you!