We received a lifetime subscription to HomeSchoolPiano to review. The lifetime subscription covers up to five students and gave us access to HomeSchoolPiano's Complete Set of Books. This is a product for all ages. My 3 year old and 4 1/2 year old have both watched the videos and practiced playing the piano keyboard.
A bit about HomeSchoolPiano:
Willie Myette is a graduate of Berklee College of Music and has toured the US and Europe as a clinician and performer. He began JazzKids in 1996, which has grown to be a program used by hundreds of teachers around the globe. The JazzKids books and workshops have taught children as young as six years old how to improvise and play their own music. PianoWithWillie.com was founded in 2007 and has been used by thousands of students. Now with HomeSchoolPiano, parents can teach their students from the comfort of their own home how to play the piano using Willie's methods!
There are three books in the set along with the core book, which teaches a beginner everything they need to know to begin learning about how to play the piano. HomeSchoolPiano strives to "teach you how to become a fully expressive piano player who is as comfortable creating music as you are reading music." You will learn how to read, compose and perform your own music! With your purchase, you will receive instant access to the online lessons. All you need is an internet connection and a phone, tablet or computer to watch the videos on. It is recommended that you use a full-size keyboard or piano with this program. Each unit consists of seven lessons and the videos are up to ten minutes long. Students can work at their own pace while watching the videos and practice afterwards.
The website is easy to navigate and once you are signed in, it remembers which lesson you used last. We have slowly been making our way through the introduction videos (CorePiano) and have watched some lessons from Book One.
You can easily pause, rewind, fast-forward and play the videos.
You can find the length of the video at the bottom.
The videos are set-up so that you can see the teacher playing the piano and speaking to the camera in the lower left hand corner. Any available downloads to supplement the lessons are at the bottom of the video (video, audio, mp3, etc.). A top view of the instructor playing the piano is in the direct center and above that is a digital piano, which shows the keys being played in bright orange with the name of the note above it.
If you are looking for a piano teacher for the visual learner, then Homeschool Piano is perfect for your child. The videos are also great for students who need to watch something several times before they have it, because you can pause it, rewind, rewatch, whatever you need. I am one of those learners and if I was learning to play piano with an instructor, I would feel too awkward to ask them to go over it again. So a program like this is perfect for those shy students. Visual learners will love seeing and hearing the piano being played right before their eyes! Auditory learners will also benefit from the style of these lessons, based on how the video plays out. The lessons teach you to hear and recognize the sounds of the notes being played.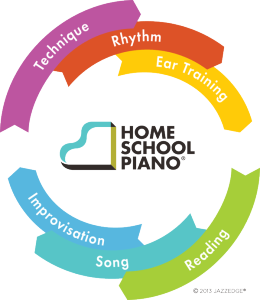 The
HomeSchoolPiano Method
: Technique, Rhythm, Ear Training, Reading, Song and Improvisation. This six-step cycle has been tested and makes it easier for children to learn the piano faster. You will learn proper technique right from the beginning and you will be shown how to develop speed and dexterity. Rhythm is the "engine" that drives music and this program uses a unique vocalization process. You will be taught ear-training exercises to learn rhythm, melody, and harmony, which will improve your performances and improvisation. You will be taught how to read music using sight reading practices, which will make it easier to compose your own music. The songs they use are original and do not sound like exercises, so you'll be having fun playing while you learn! And finally, the last skill they teach is the most important one: improvisation. You will learn how to let your creativity soar and be able to create your own music!
There are also tests that go along with the unit lessons. Here are a few examples of how the tests look. They often only show a handful of questions and you can readily check your answers. Correct answers will be marked off with blue and incorrect with red. You can opt to show the correct answers, that you can see where you made your mistakes.
Each book also comes with a downloadable pdf book. You can view it online or you can print it out. We printed ours out and hole-punched one side and arranged them in order in a 3-ring binder. The kids haven't used it much, but they enjoy using it to match the notes and name them using small pieces of felt that I designed.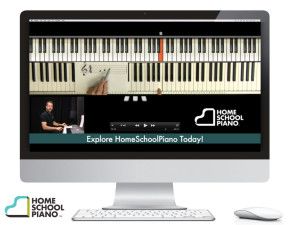 While this piano program was created with homeschool students in mind, I believe students in public school or even adults would benefit from these videos. My own children will likely take a break from it for the remainder of the summer (due to vacations and mostly being out of the house). But we intend to revisit this program at the start of the new school year!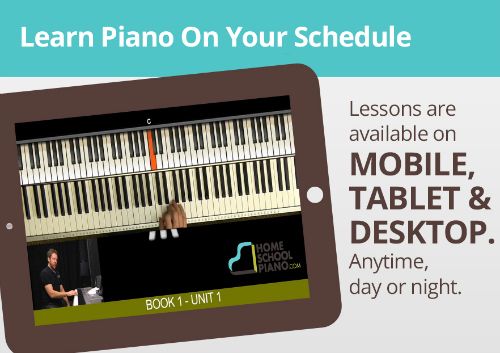 So here is the one big improvement I think HomeSchoolPiano should do to make this product even better - make an app for it! Why make an app for it when there are other piano apps available? Well, there are tons of piano apps out there. However, most only teach you certain songs, and some are not designed well and barely work, while others are just not kid-friendly (such as a million and one pop-up ads). We have tried out a couple and there's only one that we found that pairs well with this program. It is just a basic piano and the keys light up and display the name of the key (similar to the HomeSchoolPiano videos). It does have songs that you can learn, but we did not use that feature much. My daughter used this app alongside the HomeSchoolPiano lessons so that she could watch the videos on our computer or laptop and use the app on the tablet. While it is not a full-sized keyboard or piano, it definitely kept her attentive and interested in the videos. She was able to use the videos and app independently. When we tried to set her up with the videos on our laptop and the keyboard on the table in front of it, she became intimidated and did not want to have anything to do with it.
So, why should HomeSchoolPiano create their own app? A) It would be designed to work specifically with the HomeSchoolPiano lessons. B) While you can watch the videos on your phone or tablet while you are on-the-go, you are unable to practice what you learn. With an app, you would basically have a mini piano in your pocket. You can freestyle play or practice specific songs whenever you want. C) It would make lessons easier for homeschoolers who have multiple children, that way everyone can watch the videos on a computer/laptop and practice together or on their own, meaning one child could use the piano app while another uses a real piano/keyboard.
So how much is it worth? Considering what most parents pay for a piano tutor, it isn't much at all. They have two payment options, and both give you a lifetime subscription! How amazing is that? You can use this program with up to five students and it doesn't matter their age or what level of piano instruction they are at, they can begin wherever they need. And if other subjects, vacation, or life is hectic and they need to take a break, they don't have to ever worry about their subscription running out or that they have to cram through the lessons faster than they can properly learn them. They can return when they are ready to begin again.
Option One
Success Package (One payment of $299): Unlimited life-time access to HomeSchoolPiano along with all bonuses (downloads, jam tracks, sheet music) for up to 5 students.
Option Two
Payment Plan (Payments of $99.97 per month for three months): Unlimited life-time access to HomeSchoolPiano along with all bonuses (downloads, jam tracks, sheet music) for up to 5 students.
Try out the
Free Lessons
before deciding if HomeSchoolPiano is right for your children! Be sure to also check out the
JazzEdge Network
, which includes Willie Myette's jazz education, performances, and other educational resources.
Social Media Links:
If you would like to read other reviews on HomeSchoolPiano from the TOS Crew, click the banner below!