WriteShop
is an incremental writing program for children that inspires them to become successful writers! They offer resources for children in grades Kindergarten through High School and materials for teachers and homeschooling parents. We had the opportunity to review
WriteShop Primary: Book A Set
, which is the first book in their Primary set. The A-C set is ideal for children ages 5-9, or K-3. WriteShop also offers Junior sets D-E, which is for grades 4-6, or 9-11 year olds.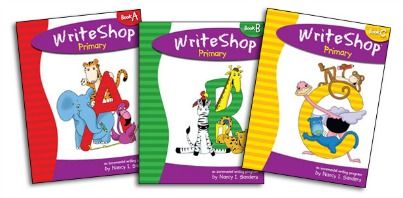 The student book consists of 25 pages, and the teacher guide consists of 186 pages.The physical version is a soft-cover book with plastic-coil binding that lies flat. You can purchase the Activity Set Worksheet Pack separately and choose the
print
or
E-book
version. Our Teacher Guide and Activity Pack were both E-book versions. You would need to print off the students pages, and you could use a tablet or computer/laptop for the teacher's book (or print that as well).
WriteShop Primary was developed for children grades K-3 and for parents to work closely with their children. This writing program is flexible and easily accommodates to your child's needs. So if they need more review or they want a more challenging activity, you can do that. Each book was developed to work together, but if your child is more advanced, you can start at a later book. Book A introduces several writing concepts that you will see develop through the rest of the Primary sets as your child learns more.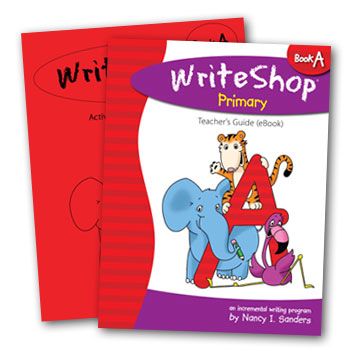 Price: $29.95
Since we are still in the beginning stages of reading and writing, Book A was perfect for our starting point. We used this product mostly for oral lessons and I wrote down their answers. Bean watching closely while I wrote down words, and would copy words new words onto her dry-erase board or ask me to tell her what the word said. She would then sound out the syllables and practice writing the word. We add "learned words" to our writing journal afterwards with a simple sentence example of how the word is used.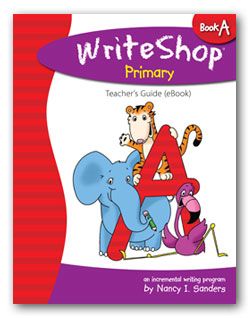 Book A is recommended for children in kindergarten or first grade and works well with pre-writers, beginning and developing writers. My son is at the pre-writing stage and my daughter is in the beginning stage. The lessons teach simple writing processes that are engaging and include various creative activities, such as crafts and working with picture books. There is no pressure on the child to write immediately and you can take your time working on oral lessons and then work up to writing lessons as they become more familiar and comfortable with their own writing progress. We supplement our literacy activities with reading and spelling curriculums, but so far my children are not comfortable writing sentences. My daughter writes letters and occasionally short words, while my son only writes a handful of letters and numbers. We will continue using this curriculum and will re-start from the beginning when they are more proficient writers, before moving on to the next level.
Because fine motor skills are important to developing the skills to become proficient writers, we always started our lessons with a fine motor busy bag (
lacing shapes
,
spools and marbles
,
sewing shapes
, and a few others). They are not necessary for this product, but we found them to be a relaxing exercise that worked on their fine motor skills. This helps them learn how to hold a pencil correctly and works out their muscles and improves their grip.
You can customize your lesson schedule to accommodate your child's grade or skill level. The lessons are divided into 8 activities that work at the pace of the child, so there is no pressure for the child. We really love that this writing curriculum does not force the child to learn faster than their comprehension can keep up. Each set includes a guided writing practice and sets 2-8 include an activity or project. The activity sets are broken down as so (below) and gradually become harder and include a final set that more advanced writers will appreciate.
We do not spend a set amount of time on any of the activities. If they want to cut a lesson short or work on it longer, I go along with them. Since my children see me writing often, they love sitting beside me and work on their own writing activities. I go over everything with them and help them step-by-step. Bean is incredibly independent, so as soon as I am done explaining and showing her examples, she starts off on her own. I can tell when she is struggling, so I'm able to assist her, despite the fact that she rarely ever actually asks for help. Bean mainly enjoys writing about superhero adventures that she goes on with her brother and retelling her dreams.
Set A focuses on personal writing, choosing topics and titles, understanding beginning, middle and end, as well as sequence of events, along with punctuation, introduction to rhymes, organizing ideas and writing about personal experiences. This product also teaches young writers about punctuation marks, recognizing words that rhyme and using a capital letter at the beginning of the sentence.
This was a really great product to introduce them to the world of writing stories and we will definitely continue using it for creative writing exercises. We were able to use this product to begin brainstorming before writing down stories, which Bean really liked! Whenever we were writing about a specific theme, we would research it first and write down key notes and interesting facts. Then we used those as either inspiration or simply to add artwork to their story. Sometimes we even typed up and printed the stories on fancy paper, laminated them and created small books. We have only made two so far, but I know we will make many more!
This is the page Munchkin mostly worked with. He usually prefers to trace letters and rarely writes them on his own. To save on printing costs, we use our sheets in dry-erase sleeves or laminate them, this way they can be reused. This is perfect for beginning writers, because they will need the practice and they will often ask to revisit the activities they enjoyed most.
Pages like this one is where I did most of the writing. I'd have my children dictate and I'd write what they said on the train lines. This is one page you will have to print several copies of. I laminated and cut out each section of the train. I have one solid page that I use for my own writing, while all of their train pieces are used for their writing. The My Story Train is perfect for short stories and we use this train often for storytelling activities, in which Bean comes up with a story or recounts an adventure she went on and has to write it down.
Pages like the one below is laminated and the pieces are cut out and stored in an envelope that is attached to the back of the page. There are Velcro dots on the back of the pieces and on the page were the pieces go. The kids color in the creatures first, and then place the pieces where they belong.
This is another page that is laminated with an attached envelope for pieces. We have a set of flash cards that work on order of events, so they were familiar with the idea. You can tell the story pieces apart because of the shape around the sentence, this way children are less confused and can easily find the matching pieces. I really wish there had been extra pages like this one, because my kids especially enjoyed this activity. We might eventually make our own story order pieces.
As far as writing curriculums go, we found WriteShop's A set to be creative and engaging, which is what we look for in the curriculum we want to use. The Teacher Guide was especially helpful and really gave a lot of information to work with and encouraging ideas to engage young writer's. This writing program has inspired my daughter to become a storyteller and now she is constantly telling me detailed stories and asking me to write them down for her. She is becoming increasingly interested in creative writing, which makes me so happy!
Did we enjoy this product? Yes, we did! At first we were unsure of how much we would like it, because the first week neither of my children wanted to use it. Gradually we were able to find ways that made it appeal to them and now they love it! I would definitely recommend this product to homeschoolers who want to teach creative writing to their children. This is a product that would work great for a child who enjoys coming up with their own unique stories, because this would teach them ways to write it down.
Be sure to stop by WriteShop's social media pages!
If you would like to read other WriteShop reviews from the TOS Crew, click on the banner below!


If you enjoyed this post, follow along with us on Facebook and Pinterest or subscribe by email or Bloglovin'!