We received the
The 7 Minute Life™ Daily Planner
from
The 7 Minute Life
to review. This is a product for adults and can be an extremely helpful tool. The Daily Planner will teach you how to prioritize, organize and simplify your professional and personal life. This is a time management tool to improve your productivity.
I'll be honest. I am not a naturally organized person. I'm the mother of two children under the age of five. I take care of the whole household. I homeschool. I run my own blog. I play with my kids and their friends nearly every day. We're busy. Every day. And often, I don't write tasks down. I just decide in the morning, or sometimes the night before, what I will do that day. And sometimes I get it done and other times I don't. I don't stress the small stuff, although I do sometimes wish I had a better handle on things. Which is why I was eager to try this Daily Planner.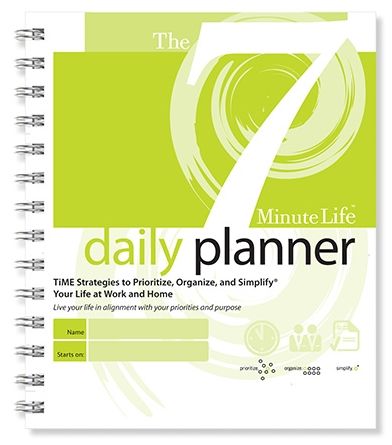 The 7 Minute Life boasts that this planner will improve your time management skills, clarify your goals and fully realize your priorities. It's based on the belief that the average person is insanely busy with small tasks, rather than larger, more meaningful tasks. That's likely true for most adults, especially those with children. They may have to drive their children to school and afterschool activities, plus errands and appointments, and they still have to make it home to complete chores and making dinner. Homeschoolers, or at least the ones I know, have a slightly more flexible schedule. But they are also busy, especially because most attend co-ops, or travel to museums or libraries regularly, or bring their kids to music or dance classes.
There's the matter of what you can get done around the house or at work (or both, if you work from home!), which can be a daunting task. I started out using this Daily Planner by writing down what my average activities are for the day. They typically include morning and afternoon lessons, blogging in the morning, checking social media in the afternoon, cleaning and cooking, playing at the park with the kids, blogging again in the evening, and late-night activities (table top gaming). I have a pretty laid back life. My kids are never carted around to a million activities. We enjoy relaxing trips to the library and park. We clean when we need to and cook when we're hungry. Going through this Daily Planner has made me realize how often I stress out over tiny things when the bigger picture is that we have a far less busier life than most people. I've also realized over the weeks using this planner that I am terrible about writing things down.
So regardless of what you have planned for the day, the Daily Planned can be used. It not only tracks your activities, but it teaches you along the way how to better utilize your time. Their process is to Think - Write - Do. You'll want to do this often and you'll notice that over time you better prioritize your activities and become more organized both mentally and physically.
Over the course of 90 days, you'll be given the tools to Prioritize, Organize, and Simplify your life. You'll learn to complete 5 high value tasks before 11am. With just 7 minutes you'll make decisions for your entire day. At the end of the day, you can make notes of what you accomplished and what you were unable to accomplish. Life is not predictable and sometimes plans change, so that's ok.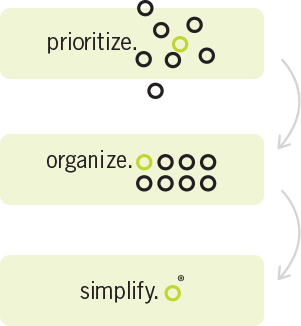 Here are a few sample pages from the Daily Planner. Each page is extremely organized and it's so easy to find what you are looking for. Your Daily Progress Report covers contacts, 5 before 11 tasks, unfinished tasks, keeps track of spending, how much you slept and exercised, what you had for meals, appointments and other options. I don't usually fill the entire page for the day, because like I said before, my life, albeit busy, is usually fairly simple and straightforward.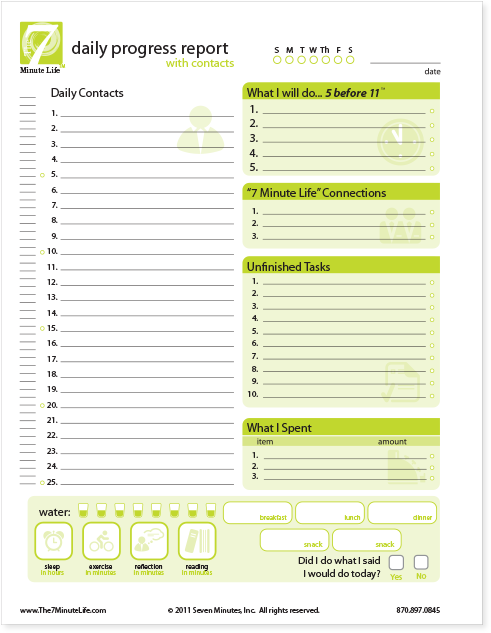 Here's an example of one of the many task lists available.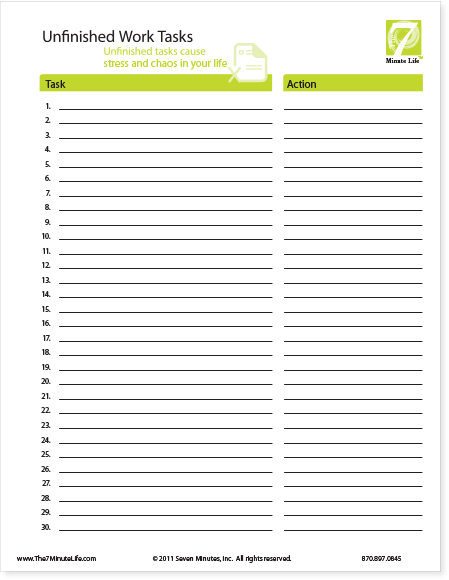 The Daily Planner costs $24.95. While that may seem like a lot of money for a planner, you should also consider everything else this book covers. It gives you step-by-step instructions on how to organize your life and provides you with plenty of additional materials, such as meeting planners, monthly calendars, 90-day calendar worksheets, tons of different contact lists (personal, business, home repair), task lists, life goals and mental clutter notes. This Daily Planner seriously covers about everything you could ever want in a planner!
Are you interested in implementing the "7 Minute" Ideas into your daily life? Check out these helpful resources:
Getting Started:
http://the7minutelife.com/getting-started/
Time Strategy Tools:
http://the7minutelife.com/time-strategy-tools/
The 7 Minute Life Daily planner:
http://youtu.be/k87NVdklKrI
(12 minutes).
16 very short additional videos:
http://the7minutelife.com/daily-planner-videos/
(about 30 minutes total).
The 7 Minute Life on Social Media:
Facebook –
https://www.facebook.com/The7MinuteLife
Twitter -
https://twitter.com/allyson7minutes
Pinterest -
http://www.pinterest.com/the7minutelife/
Google+ -
https://plus.google.com/+AllysonLewis7/posts
You Tube -
https://www.youtube.com/user/AllysonLewis
Are you interested in reading other reviews from the TOS Crew? Click on the banner below.