Forest for the Trees
from
Homeschool Legacy
is a Biblically centered Once-A-Week Unit Study. This botanical study of trees and forestry is perfect for children in grades 2-12. Even preschoolers and Kindergartners can use it, depending on how you teach using the materials. You'll learn how to identify trees, create a nature journal and observe botany experiments. You can even use Homeschool Legacy's no-prep unit studies to earn Boy Scout badges! The Forest for the Trees unit study would earn you the Forestry Merit Badge!
Forest for the Trees is a 4 Week Unit Study that comes with everything you need. However, you'll still want to pick up a few library books and take nature walks. We also created a
lapbook
to go along with our studies. I absolutely loved that this unit study heavily focused on living books and using them to learn more about trees. Living books make up the core of our unit studies. And Homeschool Legacy makes it super easy to find these books at the library by providing the Dewey Decimal identification numbers for all the books they suggest.
Week One focuses on tree identification, which takes you outdoors with a field guide. We walked around our local park, down by the river, and through a small patch of trees near grandma's house to find leaves, bark and seeds to use for tree identification. Some were even added to our lapbook! But most were collected in small baggies and glued to a poster board with the tree name underneath. We also brought our nature journals to the park with us and spent a few minutes drawing trees and leaves, and writing sentences on their observations.
Tree rings.
The tree Bean made for the cover of her lapbook.
The first week has a vocabulary section. We looked up tree words online and then added them to our "Word Tree," which is a big cardboard tree hung up on the wall with velcro spots and removable leaves, which are just laminated green construction paper leaves. We're able to write on them with dry erase markers and it helps us learn words by practicing to read and define them. The words start in a small basket near the base of the tree and the kids can learn one a day or all at once, whichever they prefer. Once they understand the word we add it to the tree. At the end of the week we do a sort of ask out-loud quiz and then we move on to the next set of words. For example, some of the words we used were deciduous, coniferous, tree, leaf, stem, roots, botany, seed, acorn, photosynthesis, gas, tree rings, phloem, xylem, cambium, bark, to name a few. We aim for ten words per week.
We researched local tree information, such as our state tree, what trees grow in our state, what times of year those trees react to the seasons, etc. We drew many trees and plants in our nature journal and we loved all the outdoor activities, like learning to climb a tree! Bean was especially thrilled at the prospect of climbing a tree. Her initial reaction was, "I can do that?" She started with thick trees and quickly found that the bark was too rough on her skin and then moved on to thinned trees with smoother bark. Her favorite tree to climb happened to be the same tree I climbed as a kid at my grandparent's house. We also collected fallen tree branches and leaves to create a sensory bin that we kept at our nature table all month. They added acorns, seeds and bark pieces that they found on their nature walks. We use them for drawing inspiration and to explore textures.
The science activities we attempted were to change the color of celery and white flowers by leaving them in a cup of water with food coloring. We also looked at plant cells under our microscope and drew pictures of the cells. We created a food web focusing on creatures that eat trees and plants and what trees eat using Safari Ltd figures (they have a tree set) and drawing on the poster board things that we didn't have figures of (sunlight, water, soil, etc.).
While this is a Christian curriculum, non-religious families can still use it and either include or exclude those parts of it. We typically just graze through and use what parts we want. We don't usually teach from a religious perspective, but when we are learning about science, I address the issue of how different people view the subject matter. So when it came to those parts of the lessons, I would say something like, "Christians believe that God created trees and plants on the third day of Creation." This way when their cousins or friends talk about Creation, they still know what it is about.
We did not need to take a trip to a local nursery because we have our own little apple garden growing in our window! My kids have been taking care of their small apple trees for a couple weeks now and have loved observing the growth and recording what they learn in their nature journals. Within a few weeks they started to outgrow their container and we will soon be putting them in larger planters. And we actually grew these from seeds we collected from organic apple trees, so it's been a learning experience for the past few months.
We Googled tutorials on growing trees and watched a few videos on YouTube. "How to grow a tree from a seed" and "How to grow a tree from a branch cutting" yielded the best results. The plant in the glass container is actually a plant we grew from a cutting.
During the third week we followed the recipe and made a yummy apple pie! We used fresh apples and were able to pluck out the seeds and used them to explore how seeds grow inside apples and they had first hand experience growing apple trees from seeds.
The longest part of the unit study is the final week, which heavily focuses on the history of trees in america. We watched documentaries and read books about how trees grow and why protecting them is important. We spent a couple days learning about deforestation and how logging can ruin entire ecosystems. During our research we stumbled upon a really neat project to plant new trees using drones.
Overall, we really enjoyed using Forest for the Trees as a month-long unit study. We will absolutely use other Homeschool Legacy unit studies in the future. It was really great how much material they covered and since each week had new books to check out, there were so many opportunities to learn more than just what was in the curriculum. You can also tell that they carefully picked out the best book choices. We were very satisfied with our learning experience.
Forest for the Trees is available for $14 using the Grab-and-Go option or $18.95 for the paperback copy.
Check out the other
Unit Studies
from Homeschool Legacy!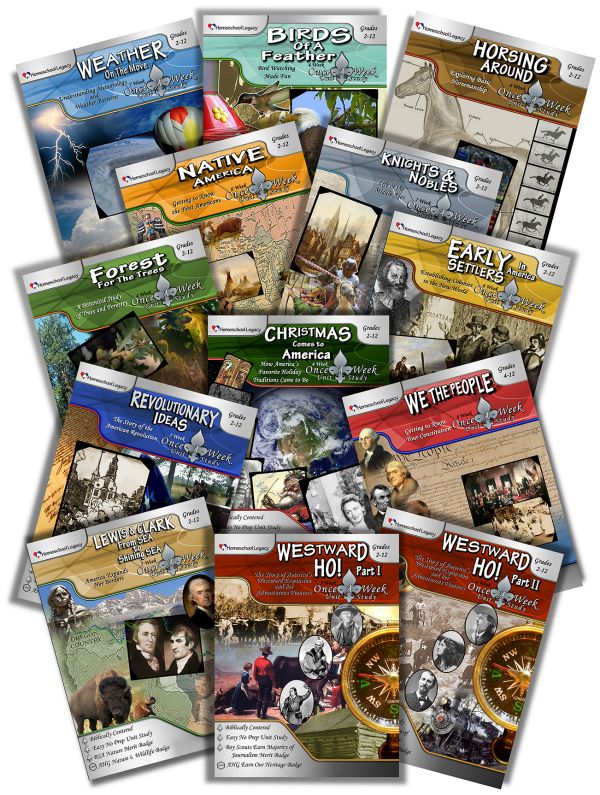 Be Social!