I am so excited to be part of the Schoolhouse Review Crew this year! This is a review for the website
SchoolhouseTeachers.com
, which is a division of
The Old Schoolhouse
. I was given a
yearly membership option
in exchange for this review. This is a fantastic website with so much information on it! If you are a homeschooler looking for learning activities or even a full curriculum, this is definitely a great place to look! I have only just learned about the website and already I love it!
My own children are young and finding preschool curriculum has been a bit of a struggle. I have been using most of my own materials and ideas, but it's always nice to look for new ideas and to be inspired by others. This website has so much that I can learn from and use with my children. I have been mainly reading the preschooler activities, but I have also been looking around at what else the site offers.
SchoolhouseTeachers.com
offers activities for children as young as eighteen months old (toddler) to eighteen years old (12th grade). This means that the website packs in a lot of learning materials, but is divided to make navigation easier. They separate Pre-K/Elementary from Middle/High School and further divide into different subjects. They are then presented based on the age range or grade they were created for or specify "for younger children" and "for older children", since some homeschoolers do not like to group their children into grades. I believe this is a smart way to go about teaching subjects, since some families have multiple children and this way you can involve them all in the same activity! For example if you are studying science or nature, you could create matching cards of lichen and moss for younger children and design a journal study for older children to classify the different lichens and moss.
Since my kids will eventually be older, I will be doing my best to gather as much learning materials and information as I can so that I will always be prepared. This site offers fantastic learning materials for all grades from Pre-K to High School. And it doesn't just offer materials for the core studies like math, English and science, but also offers studies on geology, archaeology and economics, just to name a few! There are musical studies (guitar and violin), science experiments, and lapbooking lessons. Lapbooking and unit studies are both ways that I plan to teach my children when they are older, so I am excited to learn about them now so I am better prepared!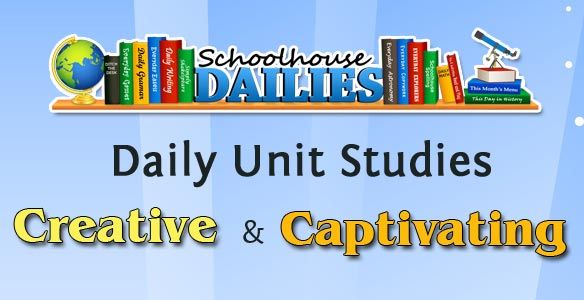 The main thing I like about this site is not just that they provide the information for the activities, but they also lay out an entire lesson plan for the week or month! My kids are too young to be very focused, so we switch themes depending on their interests (except Holiday themes, which we do on and off throughout the month). When they are older and we can work on the same theme for a week or month, these lesson plans will definitely be good to have on hand! This is my first year homeschooling and there is so much to learn, so I'm glad to have such a great source of learning materials at my disposal. I have already found so many activities and lesson plans that my kids will enjoy!
The
Sensory Learning for Toddlers
is a great corner of this site that has ABC lesson plans on a weekly basis. They offer sensory and other hands on activities like crafts as well. I especially appreciate the early math and science skills being added because those are my daughters favourite subjects. My son is also beginning to really enjoy simple math and science activities, so I look forward to following along with these activities!
I love the
Preschool Corner
the most! It has a fantastic curriculum that is easy to follow. The
read and play
activities are really great. Reading stories and then following up with themed activities is one of our favourite things to do! We usually create sensory bins based on the kids favourite books, our favourite being the Little Blue Truck. There are also fun activities, like 123 and ABC colouring pages. It is great that they really focused on toddler and preschool education!
Another offering of this website that I really love is the fact that they offer all of these materials for a very affordable price. If you are using this website as your source of curriculum for the year and you have children in different grades, you can use the same website for all of them and still pay the same price! You do not need to pay for each individual child, just once for the entire family! You can purchase a yearly membership for $139 or you can pay the monthly rate of $12.95. The first month is only $3 while you try it out!
This website offers so much that you could use this as your whole curriculum for the year and for your whole family too. You'll have access to everything they offer, but may need to purchase additional products on the side. For example, if you decide to do a reading lesson on a particular book they have a plan for and you do not own it, you may need to check it out of a library or purchase an ebook or physical copy of the book. I do not see this as much of a hindrance because we buy the majority of our books at a local used bookstore and when we are studying a particular subject we simply sign out books from the library if they are books we will not need the next month.
The layout of the website is really easy to navigate and I was able to find everything I was looking for with ease. I liked in the elective pages they link back to lesson plans in the archives so I could see older lessons. It gave me a good idea of the style of the lesson plans and I was able to find a few I really liked. The greatest feature I like is that everything is in one place and I don't have to look too far to find it. If I look in lapbooking, everything associated with lapbooking is linked right to that page. They also specify the age/grade range and the topics associated with that particular study, as well as helpful instructions.
The main thing I feel I should point out about the layout of the website is that while a parent or teacher would appreciate the layout (easy to navigate, plain design, very to the point), I don't believe older children would find it very attractive. Nothing pops out or draws me in. However, if you are considering that mostly parents would be using this to read the lesson plans and print out the materials, the kids would only see what is printed and it would not be an issue about a website design. I personally like the design because it doesn't have to be flashy to be informative. So perhaps in the future they will design a section designed for children using the website which will be geared towards them and not their parents. Perhaps they could even complete their lessons right on the website and be able to save it so that it could be viewed and graded by their parent(s) later.
I love their unique electives and that they have teachers from all over the world that write the curriculum. There are so many subjects that I look forward to teaching my children about, like computer science, which I know Bean would absolutely love! They also have few options for language studies, including Spanish and French. It would be great to see some more language options in the future. My daughter has really taken a liking to language studies and currently enjoys learning German and Mandarin Chinese.
Their
Library
section is full of ebooks, lesson plans, and reading lists! This has been my go-to section for the past two days and I have been jotting down a few ideas! There is so much to learn for the whole family! This is not just a website for homeschool kids, there are also articles available for parents about housekeeping, the outdoors and homemaking. You can even download The Old Schoolhouse app to read their magazine! They also offer report cards and progress tracking, as well as a grading system. I'm sure those will be helpful to me in the future!
I have already tried a few of their lessons with my children and I am happy to report that they enjoyed them! We have completed some of their sensory alphabet activities (A through C, so far!) and substituted some of our own ideas and books to replace the books and materials that we did not have on hand. The alphabet activities are found in the
Toddlers
section. When we got to "B is for Butterfly" I was so happy to see that their craft activity was similar to our
butterfly craft
that we tried over the summer! They suggested using contact paper, however we have never used contact paper, so we simply recreated the activity using only construction paper and glue. The below picture is from our activity over the summer, but when we recreated the activity earlier this week we used red and green paper for a Christmas themed butterfly. Sadly I did not catch pictures and already gave the butterflies away. We used our Safari Ltd. Butterfly Life Cycle manipulatives to learn about their life cycle again and I was so happy to see that Bean remembered the correct order of their life cycle and to tell me about each stage. I used flash cards with words on them to work on word recognition and also to practice matching them using magnet letters. We used our pretend play food to "feed" a caterpillar and Bean drew him as a cocoon. We used our Christmas scented play dough to form the letters and words and to stamp them with toys (airplanes for A, butterflies for B, and cars for C) for some sensory play!
We will certainly be continuing these "Letter of the Week" activities and look forward to "D is for Dinosaur"! The only thing we changed about this activity is that we did "Letter of the Day" instead of "Letter of the Week". My kids are constantly exposed to letters, so we rarely focus on just one for an extended period of time. That's just what works for us and I know "Letter of the Week" has worked for many other families!
I personally believe this is a great resource to have for any homeschooler, but as someone who is new to homeschooling, I love being able to check this website either for ideas and inspiration or for ready-made lesson plans. It will be great to check back every week to see what the new lesson plans are!

If you would like to learn more about The Old Schoolhouse magazine, check out their other pages:
Facebook
,
Twitter
,
Google+
and
Pinterest
.

If you enjoyed this post, follow along with us on

Facebook and

Pinterest or subscribe by email or Bloglovin'!