I am reviewing the
Glow in the Dark Egglo Eggs
and
The Egg-cellent Easter Adventure
book from
Egglo Entertainment
. We also received the
The Egg-cellent Easter Adventure Audio Book
,
Egglo Treasures Scripture Scrolls
and
The Egg-cellent Easter Adventure Program Guide
to go along with the glow-in-the-dark eggs and Easter adventure book. These are religious products that are to remind children of the reason they celebrate Easter and to inspire them to find the light of Jesus.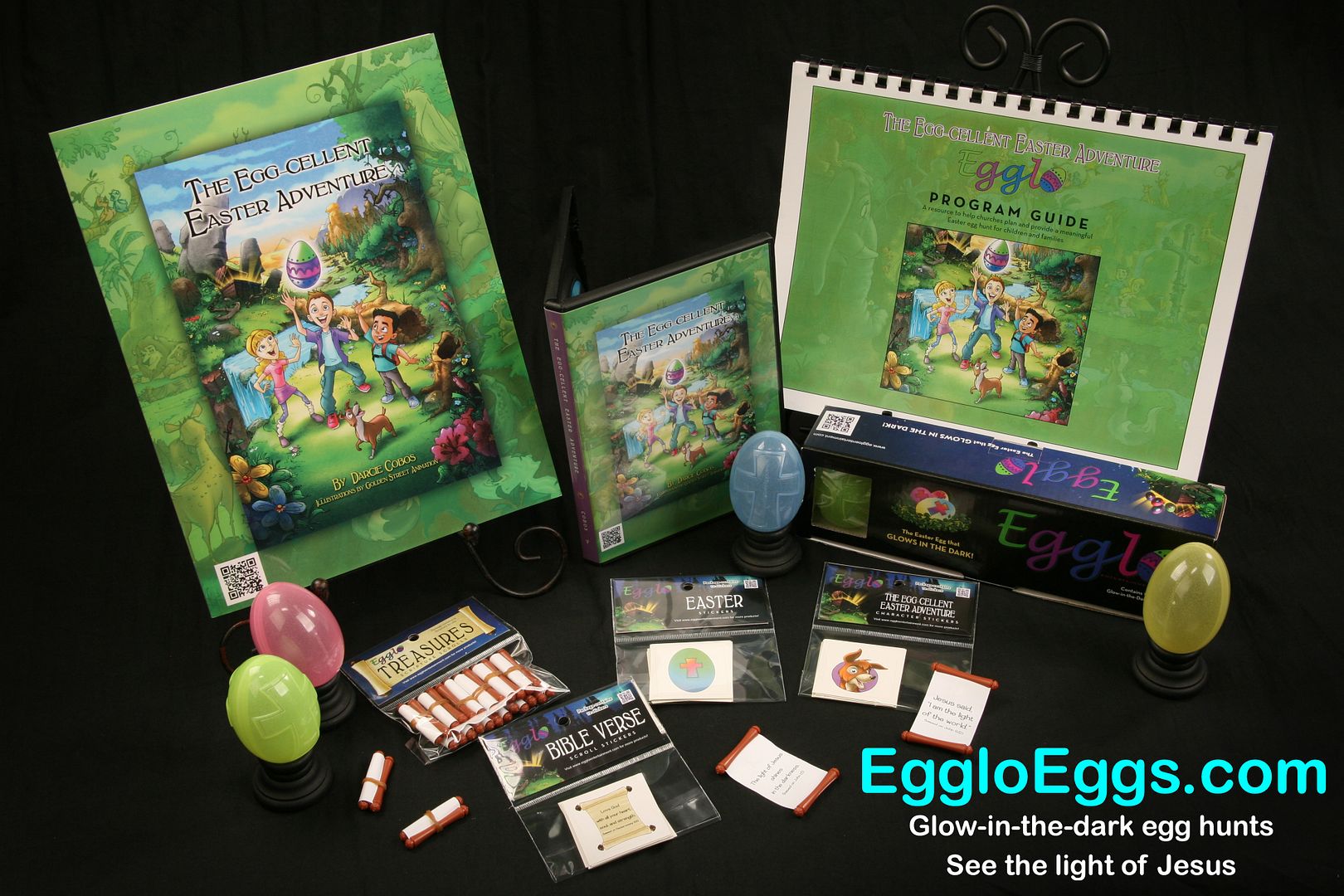 When the package arrived, my kids ran over to check it out (who doesn't get excited about packages?) and were immediately excited when I opened it up and pulled out the box. Bean excitedly asked, "Are those eggs?" I quickly answered, "Why, yes, they are! And not just any eggs, these eggs glow in the dark!" They were honestly more excited to play with the eggs than to check out its glowing properties. So they helped me put all the eggs together (they are separated in the package) and there were twelve eggs total. Once they were all put together they asked for their red baskets (which we use for all sorts of activities, but mainly they are used in the play kitchen to sort fruits and vegetables) and we divided up the eggs (Munchkin claimed all the blue eggs). They literally spent the rest of the afternoon playing with them. They made scrambled eggs (cracked the Egglo eggs open and stirred around the yellow pom pom pieces that came out - yum!), hard-boiled eggs, baked eggs, egg salad, egg pizza (though the pizza parts were stuffed inside) and egg juice (never heard of it? well it's healthy, apparently). They loved it! The eggs were great for pretend play and I made sure not to interrupt them. A lot of learning is to be had during pretend play!
And these Egglo eggs are certainly more fascinating than regular plastic eggs. For starters, they open from top to bottom, rather than across the middle. This was a new way to take them apart and put them together! Simple fine motor skills were practiced. And they are clear and pastel coloured and have a symbol on them. I explained that it was a cross and Bean recognized it as the one like she sees in Churches. They also glow in the dark! How cool is that? I have never seen glow in the dark Easter eggs before!
These eggs are meant for children ages 4-13, but I think toddlers would also enjoy these eggs. My 2-year-old son had no problem opening them or putting them together. He enjoyed all the activities we created with them and he will be able to participate in the egg hunt that we set up with them on Easter. While they are easy enough to figure out, some younger children may have difficulty putting them together because you need to make sure they are facing the right way.
These products are fairly inexpensive. The Egg-cellent Easter Adventure book is $12.99 and the audio download for the book is $2.99. The Glow in the Dark Egglo Eggs are $11.99. The Egglo Treasures Scripture Scrolls are $4.29. And the Egg-cellent Easter Adventure Program Guide is $14.99. While we loved the Easter Adventure book and the Glow in the Dark Easter eggs, I probably wouldn't have wanted to purchase the others. Mainly because we are a family that loves to create our own things, so most likely we would have found a way to create unique scripture scrolls of our own. However, these scripture scrolls would be perfect for a church event, either as egg stuffers or for prize bags or simply to learn scripture. The program guide was a helpful tool to get started with using the eggs. They go over how to "charge" the eggs by placing them in sunlight for a few hours and how they are most effective in complete darkness. There were also some suggestions on how to play and learn with the Egglo Glow in the Dark Easter Eggs. We do not plan to use these eggs at a church function, however the program guide would certainly be helpful for anyone who planned to use Egglo eggs and products at a church function. They give lots of ideas for snacks, games and provide printables for kids (eggs, scriptures, and questions that can be placed inside of the eggs or use for an activity and colouring pages). You can set up an activity table for children with these printables. Each child could be given a set of colouring pages to take home. I plan to print them out and bring them with us when we go to our cousins house.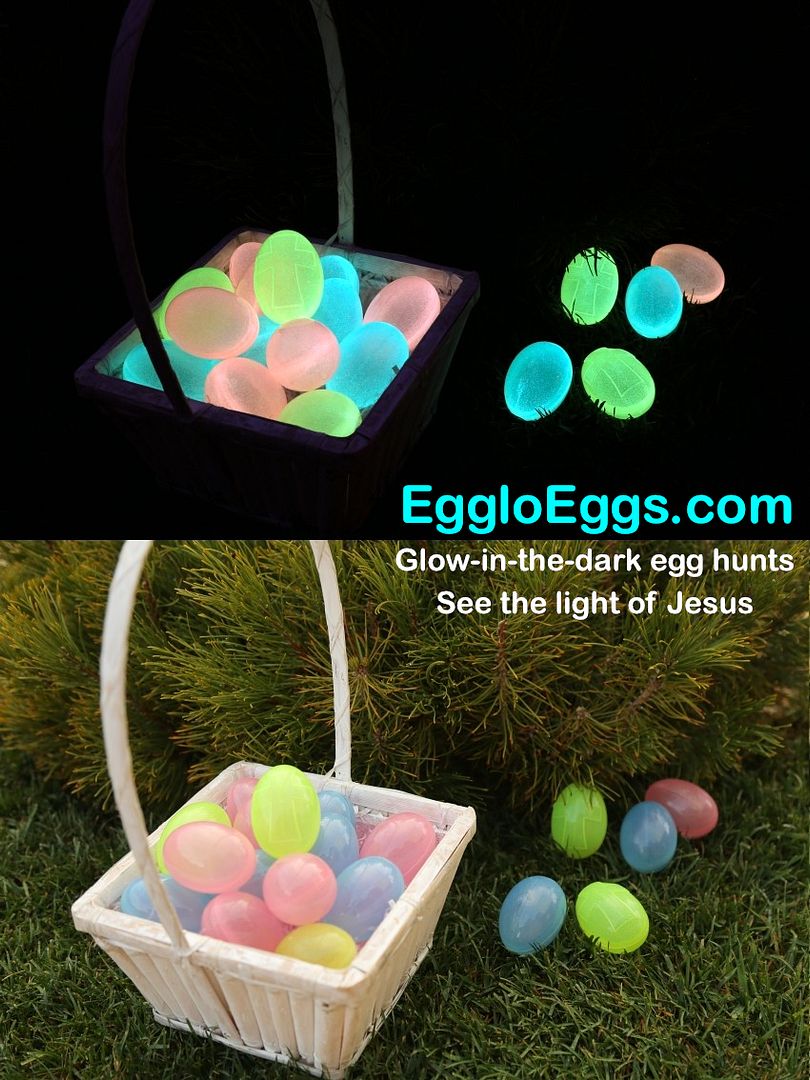 We do plan to bring the Egglo glow in the dark eggs to a family members house where we will have a big Easter egg hunt with all the kids. While we have never had an Easter egg hunt at night, it may be fun to try! Otherwise, these eggs will still be used in the egg hunt and will make a special treat at night when they start glowing! And if we can't have an Easter egg hunt at night, we will host an Easter egg hunt of our own inside our house when we get home and the kids will be able to bring them upstairs to their room and sleep next to the eggs they find. I expect they will make a nifty night light!
And since it's too early for Easter activities, I decided not to plan any outdoor Easter egg hunts for a while, although they will certainly come up once April arrives! In the meantime, I created a few activities for the readers focusing how you can use these eggs for toddlers and preschoolers indoors before or on Easter.
I wasn't going to create an Easter basket for them quite yet, but since they requested it, I couldn't really say no. They picked out some Easter grass (we saved them from last Easter) and the Easter basket that they wanted to use. I set everything up on the table and they happily filled the basket to bursting with grass and eggs. We actually had to take out half the grass to get any of the eggs in. Then they happily played an egg hunt game in the kitchen (all the eggs were hidden inside the fridge, of course) before proceeding to host their own in the living room. Kaede, our dog, went along with them and helped to find the eggs. Bean loves testing out Kaede's "nose powers".
The Egglo Eggs look lovely in an Easter basket!
Bean has been interested in music lately, so we used the eggs to create a few simple shakers. She picked out the items and filled them up. You can barely tell what is inside them, so it was interesting to see if she could guess what was inside based on the sound the egg made while it was being shaken. Munchkin enjoyed shaking them but did not want to play the guessing game.
We used plastic beads, wooden spools, alphabet pasta, marbles, melty beads and spiral pasta. They all made their own unique sound and it was perfect for one of our five senses activities. You can tape the sides for younger children so they don't open accidentally.
We also created a few different sensory bins. You can use Easter grass (paper or plastic or real grass) or any kind of filler. We mixed together the orange and pink Easter grass (or at least we tried to) and placed some eggs underneath and some on top. I had mixed up the colours of the eggs, so some blues were paired with yellow and some yellows with pink, etc. It was up to them to find two that matched and put them back together. And since Munchkin loves matching games, he enjoyed this one very much!
We also created a sensory bin using our
yellow sensory salt
. I had put a
scripture scroll
inside each of the eggs. Whenever they opened an egg, they pulled out the scroll, took off the elastic (we kept the elastic on to keep in intact but also to practice fine motor skills) and asked me to read the scroll. They also used the eggs to create pictures and arranged them to form letters. Below you can see Bean's rabbit sniffing a flower. She's very imaginative!
The scripture scrolls are small and fit neatly inside. There is still plenty of room to add in other goodies!
Toddlers can also use the eggs for scooping and pouring.
I read to them from the
Easter adventure book
while they played.
Bean really liked this book. We have read it several times. She is always interested when a story is about an adventure children go on and she decided that she wanted to go on her own Easter Adventure when April rolls around.
She also likes to tell me what is going on in the story based on the pictures. For the most part she remembers the story and can explain it to me, but sometimes she creates her own story. The Egg-cellent Easter Adventure book is nicely written and easy to follow. The pictures are bright and inviting. This book is well-loved!
- Have a Glow in the Dark Easter egg bath! I've seen many of these glow in the dark baths around the web and they look so lovely! Most of them require a blacklight. Or just have an Easter egg themed bath, still lots of fun!
- Make seed bombs and use the Egglo eggs as the molds. Hand these out at Easter or throw them into your own yard and watch the flowers bloom!
- Use them with play dough! You can use them to create egg cookies, to design their own eggs, for texture pressing, or to fill them with play dough and give as an Easter gift.
- Create and design your own Easter decorations or Easter basket.
- Create a nest out of recycled or natural materials (just like a bird would!) and place the eggs inside the nest as a pretty centerpiece.
- Use the Egglo eggs as cookie cutters to make egg-shaped cookies for Easter.
- Fill a sponge with paint and use the eggs as stamps to create your own Easter cards and/or Easter art.
- Use the Egglo eggs for pretend play! The possibilities are endless!
All in all, we loved the eggs! They are perfect for Easter and my kids love playing with them! We found many uses for them at home, from matching games to sensory bins to pretend play. And we look forward to using them on Easter for an egg hunt! It will certainly be a surprise to the kids when they see them glow at night!
If you would like to read other reviews on this product, click on the banner below.