We received the K-2
Spanish Courses
from
Middlebury Interactive Languages
to review. You can also choose from other languages, including French, Chinese, German and Arabic. These courses can be used by children as young as Kindergarten (5-6) and as old as High School (18). And despite being a language program for children, I'm quite sure an adult could learn a language using this program, especially if they work with their child on these courses. Middlebury Interactive Languages also uses an immersion approach, which is the best way to teach a new language.
The K-2 course is 35 lessons for one semester. K-2 students should ideally work on their lessons for 2 days a week. There is no speed limit, so children can work at their own pace and either work ahead of schedule or slow down and take their time. There are plenty of activities to review what they learn, but I feel like you should understand each lesson before you move on to the next.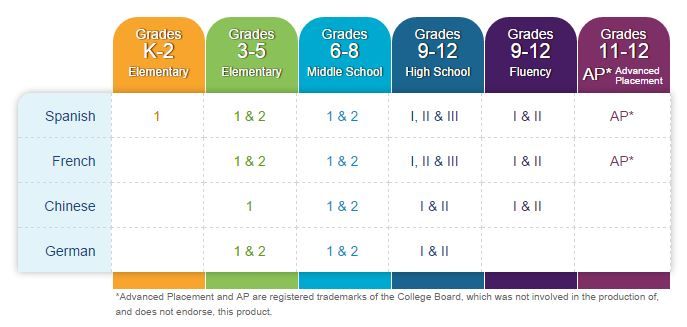 Since we live in an area that could be described as a melting pot of cultures and languages, we decided to go with Spanish, since it was the most commonly used language in both our family and on the street we live on. It also is the only course that is suitable for children as young as mine are (granted, mine are 3 and 4, but did perfectly fine with this course).
We used this course 2 or 3 days a week, sometimes for as long as two hours. We honestly do not usually follow the recommended amount of time required for each block of the course, and that is because my children are slightly younger than the recommended age and we did not want to overload them with a new language, especially because both of my children were slow to talk. That being said, they did wonderfully with these courses. My daughter especially enjoyed them and will often reply to comments in Spanish or ask a question in Spanish. I made sure to stay by their side as they completed the lessons, mainly because it has been a really long time since I have spoken Spanish and definitely needed to brush up on my knowledge.
About a month after we began using the course we picked up a few books at a local used bookstore that were in Spanish, or Spanish and English (typically Spanish on one page with an English translation on the next). This became a really fun way to work on what they know and to learn new words. We also practiced speaking Spanish with our neighbors. The adults were really helpful and patient and had fun teaching the kids simple phrases and words. Many of the kids in our area, as we quickly found out, do not speak Spanish (or at least not well), despite their parents being fluent. I asked why this was, and they said it was because they wanted their children to focus on English, since that is what is taught in school. In our area, foreign languages are not taught until middle or high school. However, in many parts of the world, it is required to learn an additional language, if not several, at the beginning of their school years.
The Spanish K-12 Course was really wonderfully designed and appealed to my children. My daughter did respond better to the real pictures, and very quietly told me she did not like the cartoon faces. But that is just her preference. My son sat through every lesson that we have completed, but for the most part did not engage himself in the course. He paid attention and occasionally I would hear him whisper a phrase or word that he liked, but otherwise let Bean focus on it. Occasionally she did have trouble with the pictures and matching a word or phase to them, so I had to go through and tell her what was going on in each picture (see the picture above).
The word matching activities were certainly Bean's favorite and the part of the lessons that she enjoyed at the most. I would say things like, "In English, this animal is called a lion. In Spanish, this animal is called a ___?" Then she would tell me her answer and I would drag the word for her. We practiced this sort of activity while playing, as well, and would quiz her knowledge of animals, objects and places (using maps). The one part of naming that she did not like, is the new names given to family members, so I had to reassure her that it was just part of the learning process and she did not have to start calling her Grammy abuela (although we do have a family member we call abuela, even though she is actually a great aunt).
I really liked that they had interactive activities, such as the one in the picture above. You would click on the pictures that needed to be colored in and you'd listen to the words in Spanish. They also had many videos throughout the lessons of stories spoken in Spanish. This reminded me of taking Spanish back in school and I would find movies in Spanish to watch. While definitely still being a beginner, they were able to understand many of the scenes, even being able to tell me what was going on, even if they couldn't understand all of the words. (Just a helpful hint: if you are learning a language and also have Netflix, many of their movies and shows have a Spanish translation.) This helped to expose them to more of the language and make them even more eager to learn.
I also created Spanish letter stones (I could not find an adequate printable to create a set of felt bean bags) to practice pronouncing the letters, as well as a set of numbers and punctuation marks. Not only were we able to practice pronouncing, but we used them for ordering and matching (having two sets of each), and for spelling and math activities.
While I can't say they are ready for full conversations or to read a book in Spanish, they are certainly doing as well as I expected. It helps that Bean is more of a visual and auditory learner and the lessons support both of these learning styles. However, Munchkin is a kinesthetic learner, which is why we have created so many hands-on activities on help him keep up with the lessons.
You can use Middlebury Interactive Languages on a laptop or computer, and you will need a microphone (which is a great tool for children to see if they are pronouncing words correctly). You'll also need internet available, as this is an online language course. I honestly wish this was the type of course you could download and have available at any time without needing internet (though only available for the amount of time you were subscribed to), since we spend so much time outside. We usually just take our lessons with us, and this is one that is only available in the house.
One thing I did not like, and honestly I find it to be a too common problem with online programs like this, that there is no easy way to track down a new password if you have forgotten yours. We typically use the same one for Bean's online curriculum programs (it's an easy one for her to remember), but on one day it didn't matter which password we typed in, nothing worked. I waited on the phone for over 20 minutes to speak to someone, and in the meantime I cleared out the cache, on the off-chance that that was the issue. It turns out it was, so I never spoke to anyone from the help line. However, I really wish there had been a note or helpful suggestion that said what the problem might be or a link to direct us to retrieve our password.
Overall, we did really enjoy this program and loved that it was available for younger children. I hope that they continue making their courses available for younger children, since Bean is interested in Mandarin Chinese and German. I have high hopes that this interest in foreign languages keeps up, because someday I expect it will be really helpful for her to speak several languages.
Middlebury Interactive Languages Spanish K-2 Course is available for $119 (per semester) for an Independent Study or an additional $175 (per semester) with a Teacher ($294 total cost for both). This course will provide a young child with fun, interactive lessons, with songs, games and practice activities. They will learn basic expressions and an understanding of Spanish vocabulary. Each unit is based on an authentic fable, myth or legend from a Spanish-speaking culture. If you're taking a fully immersion approach, you could also combine this course with Spanish-themed unit studies, learning more about these legends, the people who believe them and where they are located in the world.
Middlebury Interative Languages on Social Media
Facebook:
https://www.facebook.com/pages/Middlebury-Interactive-Languages/141015515949753
Twitter:
http://twitter.com/MiddInteractive
Pinterest:
http://www.pinterest.com/middinteractive/
Google +:
https://plus.google.com/b/110371351490550861545/110371351490550861545/posts
If you would like to read more Middlebury Interactive Languages reviews from the TOS Crew, click on the banner below!