We have been given the chance to review Amy Puetz's
Golden Prairie Press
Digital Heroes & Heroines of the Past: Amer. History Curriculum
! This history curriculum is ideal for students in 1st through 6th grade and covers 30 weeks of lessons and activities. Each lesson is divided into two parts, the first part can be used by 1st and 2nd graders and the second part can be used by 3rd to 6th graders. You can tell the two parts apart because the lessons for younger students is in a large font and the lessons for older students is more detailed and in a smaller font. This curriculum is priced at $98.99 and comes with Heroes and Heroines of the Past: American History Part 1 and Part 2, Additional Materials (printable timelines, videos, coloring pages, etc.), Historical Skits, Sing Some History, Listen to Some U.S. History and literature book suggestions. This curriculum is available in a black and white printed edition and colored digital edition. We received ebooks and audio files that we downloaded and used for this review. The ebooks and downloadable materials can be printed if desired, such as the games and timelines.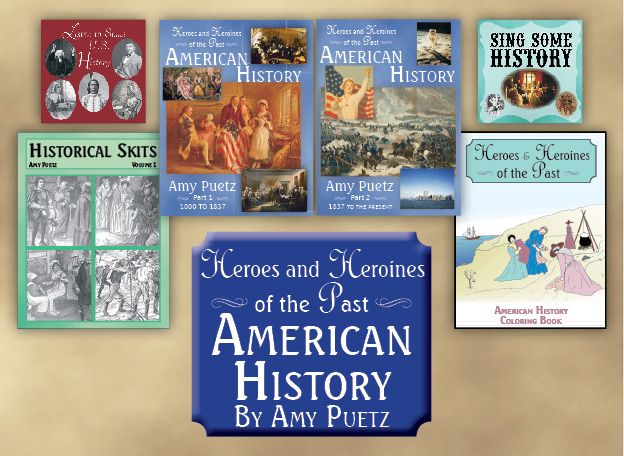 This history curriculum focuses on the heroes and heroines of the American past and contains many old stories along with stories written by modern authors. The lessons are filled with historical art, writing activities, questions (the answers are at the back of the book), experiments, recipes and games. These lessons are paired with audio downloads of historical speeches, poems and songs. Children will enjoy the historical skits, which will also teach them about plays and acting. We have only read some of the skits for now while my children play in their themed sensory bins, but we look forward to using them in the coming years to create reenactments from history!
My own children are preschoolers, so they did no reading or writing activities to go along with these lessons. We focused more on introducing the subject materials and engaging in learning experiences, like creating recipes and crafts from those times. I read to them and created a few sensory play and craft projects for them to work on. We are currently working on a Native American unit study, so for now those are the only chapters we have read. Since they are young, we only work on one lesson per week. I read the chapter once a day at the beginning of the lesson or activity. We choose a theme each day to explore, such as a craft, recipe, art or sensory activity. We work on these activities Monday through Friday and for about a half hour each day, if not longer, depending on how long the activities take.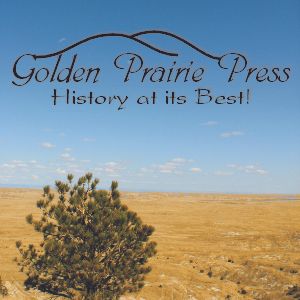 We have read and created activities for The Period of Discovery Lesson 1: People of North America, The Period of Colonization section 3 lessons 1-4, which explores the life of the early settlers of Virginia and Pocahontas and section 4 lessons 1-3, which explores the settlers and Native American's of Massachusetts. We will be starting the 4th lesson from this section next week. We used these materials along with a few books we gathered from the library or already owned, mainly children's books about Native Americans, settlers and puritans, to read during story time.
We used a few different materials for sensory play, including several Safari Ltd. Toobs (Jamestown Settlers and Powhatan Indians, and later we will use the Pirates, Wild West and USA Presidents Toob) for themed sensory bins, clay to make bowls and canoes, wooden sticks and felt (instead of leather/animal hide) to make tepees, and paper mache to make homes for the settlers and Native Americans. We printed old maps of New England, the Virginia colonies and England from that time period. We printed a map of the Atlantic ocean and drew lines from England to the shores of America where their ships landed. We also printed maps of Massachusetts and drew lines around where there were colonies.
We happen to live in an area where some people settled in the 1600's, so our area is rich in history and many of our local libraries have collections of materials that were historically significant to that time period. We plan to visit the library in Billerica several times during the unit study to observe the tools and materials the settlers and Native American's used and draw them in our journal. We printed the map below and marked where we live and compared the older map to a current map. We compared the types of houses they built and lived in, the equipment they used for farming and traveling and the ships they sailed across the Atlantic ocean in. We paid special attention to the Mayflower, as my boyfriends family can trace their ancestry back to the Mayflower and my children and I are related to Native Americans, although we do not know which specific tribe.
We are trying to time these lessons just right so that we can visit a few places that will go along with the lessons, such as the Yankee Doodle parade and Colonial Minute Men reenactments that are hosted in Billerica each September, along with museums and historical buildings around Massachusetts during the summer. We intend to visit the witch and pirate museums and Friendship of Salem (a replica ship) in Salem, MA. We'll also be able to visit other local museums that offer programs for homeschoolers that involve hands-on educational activities and lessons. I believe that in order to teach history, you must present it in a way that will make them remember it. It's why we love hands-on learning and will enjoy visiting museums and reenactments to learn more about history!
We created several of the recipes included in Part 1, including Succotash, which my kids loved! Bean helped make the delicious meal with me during lunch time while Munchkin napped. We also created a porridge one morning for breakfast, which neither of my children decided to eat because it looked "goopy". I explained to them that in those days porridge was an extremely common meal that most children and adults ate each morning. We talked about the other kinds of food puritans ate, which included fish, nuts, and berries that they gathered. Farmers were better off because they could survive off of their domesticated animals, including chickens, pigs and cows and grew wheat and corn and hunters caught deer, rabbit and turkeys. Bean told me that those were all things that we eat today, so how was their food different? They had to grow and gather all of their food themselves and did not have supermarkets like we do today. She decided she wanted to grow her own food, so for now we started a small herb garden! As we continue working through the lessons, we will research more Puritan cooking ingredients and techniques and create a few recipes, including old fashioned corn bread! We'll learn how to make our own butter and we'll visit local farms and gardens to see how they raise animals and grow food.
We listened to the
Sing Some Music
songs that went along with the lessons we read. There were lyrics provided at the end of the lessons so we could sing along and sometimes even music sheets. Bean was able to recognize some of the music notes and I printed them off so she could practice with them. Along with the historical songs, we were able to listen to
Listen to Some U.S. History.
These include speeches, poems and document readings from history.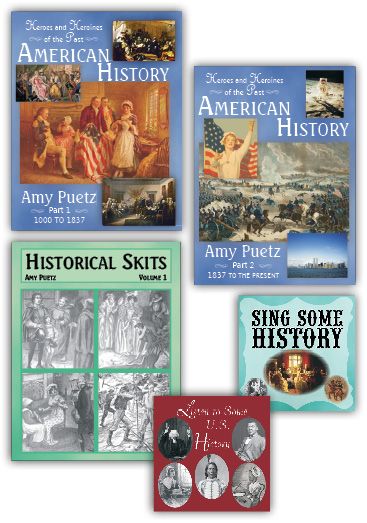 My children are not yet old enough to read the literature that was suggested for this history curriculum (though we did download two of the stories to save for later), so instead we read many stories that we found at the library about puritans, settlers and Native Americans. My children especially enjoyed the Native American legends and lore stories. As we continue learning about American history over the summer, we will pick up more children's books based on those times and learn from them as well.
Please note that some of the literature was edited by Amy Puetz and has some parts edited or removed, as this is a faith-based product. Original stories can be found elsewhere if you do not wish to use the edited versions.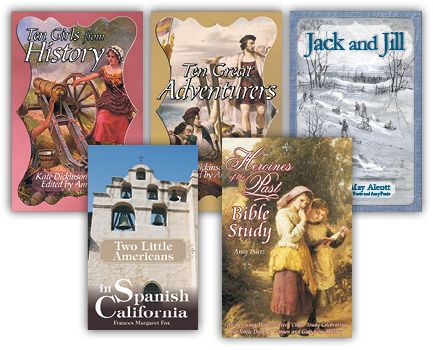 This curriculum is complete and history is taught through readings and written activities as well as through hands-on activities such as examining historical art, playing games, cooking old recipes, singing and listening to historical songs and readings, and completing crafts and experiments. We love how multi-functional the lessons are and appreciate that many hands-on activity ideas were included, as that fits best with our learning style. We will be able to use this curriculum for other unit studies and lap books, as well as many other history themed activities! We look forward to using this curriculum in the coming years and seeing how their knowledge of American history grows!
If you would like to read more reviews on this product by the Schoolhouse Crew, click the banner below!


If you enjoyed this post, follow along with us on Facebook and Pinterest or subscribe by email or Bloglovin'!